Your skin is the largest organ of your body. Give it the respect and attention it deserves. Our team of RMT's and Scientists have come together to formulate products that are functional, effective, potent and impactful.
Our nutrient rich face oil serum is potent yet gentle enough for daily use. Camellia and Rosehip oils impart moisture leaving your skin feeling soft and smooth but not greasy. While essentials of cedarwood and geranium help to improve the appearance of the skin.
Recommended for those under age 30
Can be used day or night
30ml
Age gracefully using our all natural yet potent skincare regime. Your skin is the largest organ of your body, give it the respect and love it deserves.
DIRECTIONS:
Add a few drops to your fingertips and gently massage in circular upwards motion all over your face. Massage any remaining product onto your decollate.
DAILY SKINCARE REGIME
STEP 1 - Cleanse with our Citrus Face Oil Cleanser or Tea Tree Face Wash
STEP 2 - Hydrate and Tone with one of our vitamin enriched Face Tonics
STEP 3 (optional) - Impart extra hydration with our Hyaluronic Peptide Serum
STEP 4 - Seal in hydration and moisturize with one of our Face Oil Serums
Add one of our nutrient dense Face Masks to your regime once per week
Consult your doctor if pregnant or breast feeding for any products which contain essential oils.
Use within 12 months after opening.
Store out of direct sunlight to maximize the longevity of the oils.
CAMELLIA SEED OIL: protects the skin against the abuse of external environmental elements and gives a nourished look to your complexion. It is easily absorbed by the skin, leaving it silky smooth without the greasy feeling
CEDARWOOD ESSENTIAL OIL is know to help with acne and dermatitis. It has warming, uplifting, and toning properties.
GERANIUM ESSENITAL OIL It is said to be beneficial for all skin types as it balances the skin's sebum. It is reputed in its use for eczema, acne, as well as its ability to hydrate and nourish dry and mature skin
Other ingredients: Rosehip seed oil, Hempseed oil, Abyssinian oil, Rose essential oil (3%), Sea buckthorn oil, Argan oil, Essential oils of: Cedarwood, Geranium, Roman Chamomile 10%, Lavender and Tea Tree
Solutions For
Recommended For

✔ Dry skin

✔ Fine lines and wrinkles

✔ Dark spots

✔ Rosacea

✔ Rough and/or uneven texture

✔ Dark circles

✔ Acne

✔ Normal
✔ Oily
✔ Combination
✔ Dry
✔ Sensitive

✔ Mature
Our Facial Oil is a MUST HAVE!

NON-COMEDOGENIC
ALL NATURAL
PURE POTENT BOTANICALS
GENTLE & EFFECTIVE
NO FILLERS
NO CHEMICALS
NO SYNTHETIC DYES OR FRAGRANCES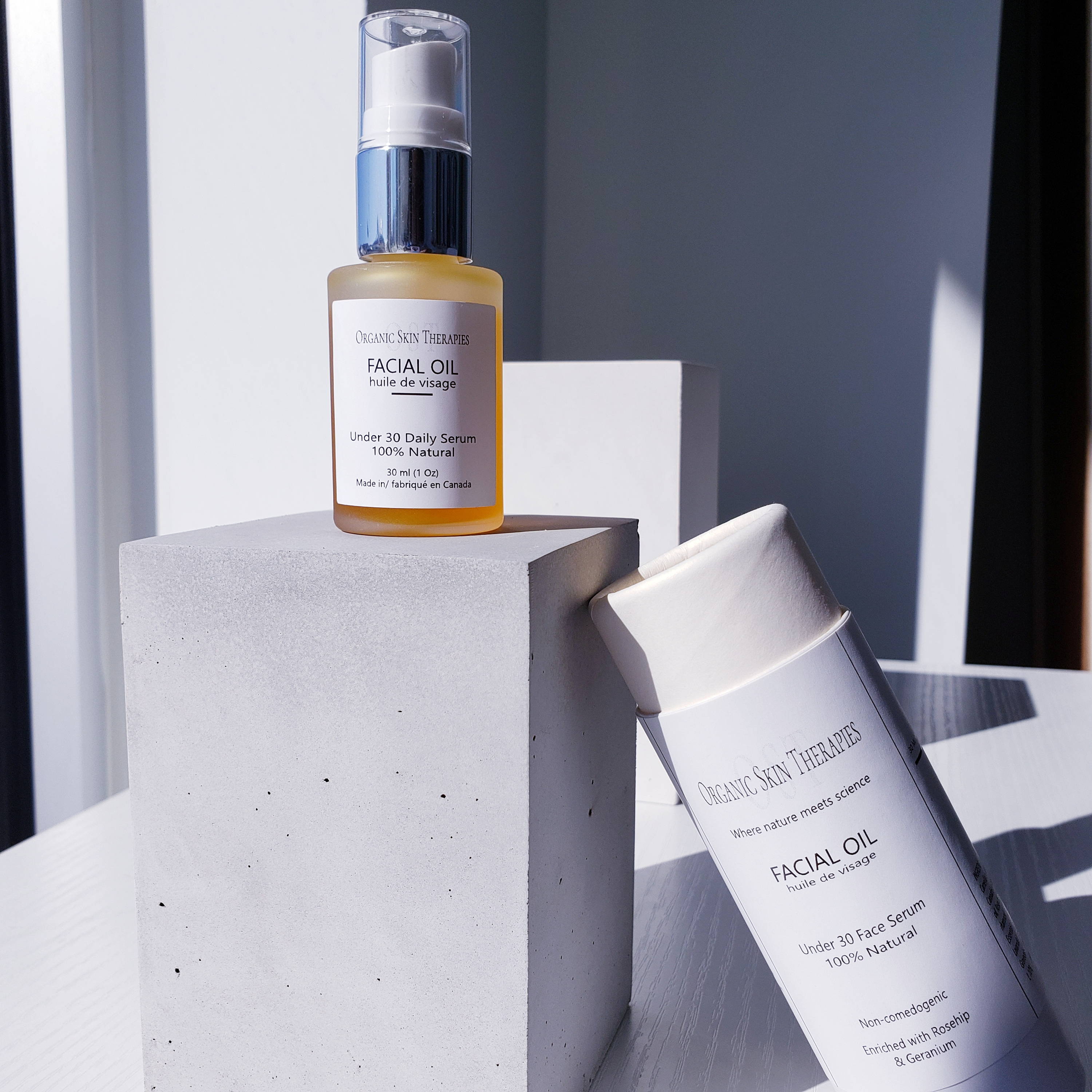 "I have smoother skin and NO pimples! and I LOVE THE SMELL"